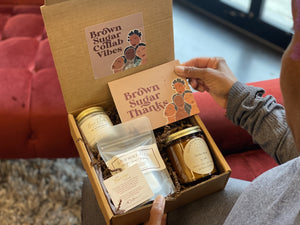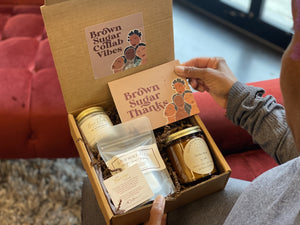 EXCLUSIVE CURATED BOXES EACH MONTH
Southend Charlotte Boutique
Specializing in Luxury Candles for Home, Bath & Body, Skin Care, Gifts & More In the Shops at
The Winnifred near The Railyard.
Welcome
To the Brown Sugar Collab
My business promotes diversity and inclusivity by purchasing handcrafted products from BIPOC women suppliers. Our suppliers create high-quality products that are natural and eco-friendly.
About Us
TRENDING
MOVIE THEMED CANDLES
For the baddie in you! Yass! This doll-inspired candle emits a dreamy scent that is sure to fill any room with a calming and tranquil atmosphere. It's so coveted, they will not last long!
ORDER NOW
★★★★★

This store was amazing!! The decor was very chic and tasteful. My friend and I went to take pictures of the store for a school project highlighting black-owned businesses, so we emailed ahead of time to let DeAnna know we were coming. She gave us a ton of information about all the products and the store and even posed for a picture for us. We ended up buying two candles, and will definitely be back to buy more from here!!

Chloe H.
★★★★★

The Brown Sugar Collab is my go-to place to find gifts that have a special feel to them. Such a great space and the proprietor, DeAnna, is always helpful and very nice to speak with. Continued success and expansion!!

Stephanie J.
★★★★★

The gorgeous curb appeal drew me in & the atmosphere made me stay! The shop owner & her cute pups are so sweet, inviting & welcoming. I love that all items are created by women of color. The body oil & body butter I purchased are both amazing & I will definitely visit again for the candle collection! Make sure you have time to stay a while!

Cris T.
★★★★★

The warm vibe and positive energy is what instantly struck me after entering the shop. As a man, I was pleasantly surprised to find a wide selection of high quality skin care products, candles and various other items that appeal to both men and women.

Julian J.
★★★★★

Deanna is always so welcoming and pleasant! She offers a great array of products ranging from scrubs and butters to sage and candles. I highly recommend you check out The Brown Sugar Collab!

Erin T.
★★★★★

Love love LOVE THIS SPACE!!!!!! The smell of the christmas scented candle is what drew me in. They have amazing candles and skincare products. The vibe of the place was awesome. Loved the artwork and set up. Great things to purchase for yourself or as gifts.

Mimi H.